Don't overlook Lake Kissimmee State Park in Lake Wales, Florida
While many people flock to the Florida coast for camping, this is one of our favorite Florida State Parks for camping – boasting a truly natural habitat situated between three lakes.
Immerse yourself in the serenity of the outdoors with sightings of white-tailed deer, sandhill cranes, and tortoises among the live oak, and explore the miles of hiking trails that loop throughout the grounds.
Lake Kissimmee State Park camping options include full facility, primitive camping, and youth camping options, with a picnic area and playground for day trip fun.
Lake Kissimmee State Park Review
Camping Area of Lake Kissimmee State Park
54 spacious and foliage-lined sites
Sites are back-in with shell stone pads and grassy areas
30 amp electric service and water hookups available
Sewer hookups are not available at the sites, dump station is available
General Info about Lake Kissimmee State Park
Bathhouse with free showers (two total, one per loop)

Laundry available at the bathhouse (one washer, one dryer)

Pets allowed, must be on 6ft or less leash (pets not allowed in primitive sites)

Picnic tables and fire rings available at sites

Stays are limited to 14 days or less

Campsites are limited to eight people, or, to one immediate family (parents and children 17 and younger)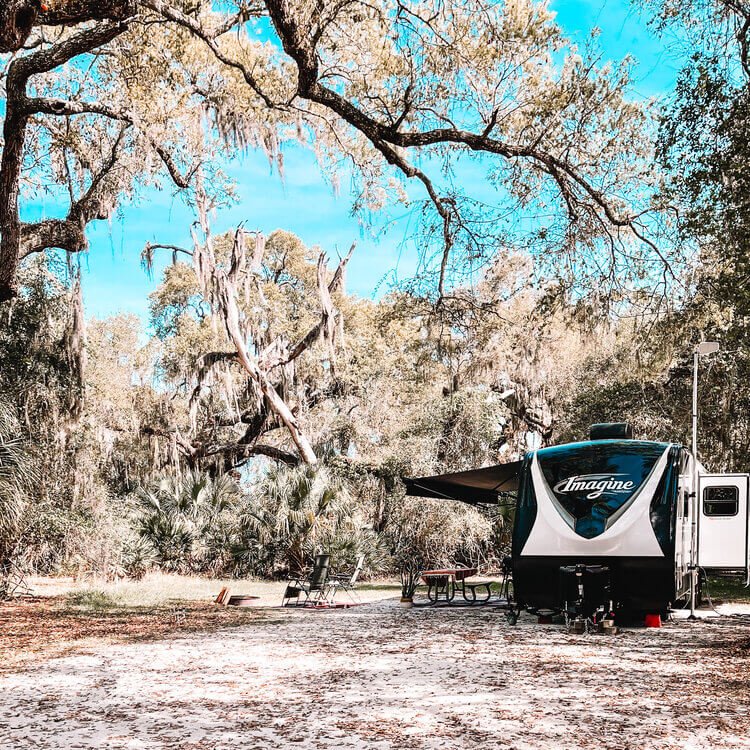 Amenities You'll Find at Lake Kissimmee State Park
Nature trails for hiking, biking, and horseback riding including 6 miles of trails open to equestrians on Buster Island

Boating, canoeing, kayaking, tours, and fishing in Lake Kissimmee, Lake Rosalie, and Tiger Lake

Boat ramp with shaded picnic area, pavilions, restrooms, and playground in main use area

Genuine 1876 Cow Camp with living history demonstrations

WiFi is available at the camp store

Cell service is spotty – we needed to use our weBoost to pick up a signal

Observation tower providing views of Lake Kissimmee marsh land
Things to Do Near Lake Kissimmee State Park
And plenty of rest and relaxation:
Starry night skies …
While this State Park is located in the Central Florida area, you'll be setting up camp under some of the quietest, clearest skies – perfect for late-night stargazing.
Lake Kissimmee State Park Contact Information
Lake Kissimmee State Park Campground
14248 Camp Mack Rd, Lake Wales, FL 33898
863-696-1112
Lake Kissimmee State Park Camping - Our Experience
We are so excited to officially be on the road as full-time traveling RVers! Lake Kissimmee State Park was our first stop after being stationary for seven months. As much as we have loved the RV resorts we've stayed at – we really enjoy camping in State Parks. There's just something about a private campsite covered in trees, surrounded by nature and the quiet calm of the night. This was the perfect first stop for us to reground ourselves in the outdoors and it just felt like a much-needed getaway.
Lake Kissimmee State Park was about a 3-hour drive from our base camp RV resort, and we arrived and checked in to site #10 by mid-afternoon. For anyone familiar with Florida, do not let the name of this State Park fool you – because while it's called Lake Kissimmee State Park, it is nowhere near the city of Kissimmee. I hadn't bothered to look at the map before we took off and you can imagine my surprise when I realized just how remote this State Park truly is, with even the closest Publix being over 30 minutes away and the only cell signal to be picked up was because of our weBoost. The drive from the office where you check in to the campgrounds is beautiful in itself, and in some ways, it seemingly transports you from the hustle and bustle of Central Florida to this remote natural gem of a campground.
This stop was interesting for us also because just days before heading out, Eric had wrapped up his last day of employment and was celebrating his early retirement. It was the perfect timing because it gave him the chance to catch up on organizing his tools, check out our new hitch, and helped to get us prepared to hit the road. It's been so many years that Eric worked 40-50 hours a week outside the home, so it has been a fun adjustment having him around all the time. It's given him the chance to focus on Aska's training and to take on some of the tasks I was doing regularly so that we both get more downtime to spend together.
In an ideal setting, as we travel I will still spend my days working while Eric takes Aska to explore the area, and then together we would hit some of the highlights after my workday or on weekends.
While staying in Lake Kissimmee State Park, we were able to test that out a bit and it really works well for us. I don't like to hike too far into the woods, but Eric loves to find his way to the middle of nowhere. This allows him to take Aska on those adventures – finding the shorter trails that I love and then taking me right to them.
In this case, he found the North Loop Trail, a 6.5-mile trail that he scoped out with Aska in advance – making it easy for me to use my hour lunch the next day to hike a portion of it with them. >> HIKE WITH US
On this trip, and like many others to follow – our use of campground amenities is somewhat limited. We prefer to bring our pups along with us on most activities, which limits the options available to us.
Aside from hiking, Eric did scope out the General Store (WiFi is available and it was fast!) and we used the laundry twice during the week. Word of caution – there is just one washer and one dryer per loop so plan accordingly!
As I mentioned, Lake Kissimmee State Park is pretty remote considering the activities throughout Central Florida.
We spent the week unplugging a bit and truly enjoying the camping-esque side of our life as RVers.
Eric really loved the number of hiking trails that were available to explore within the State Park, and it was a bonus that he didn't have to load up the dogs and drive to them.
Even for someone like me that isn't super outdoorsy on the hiking trails – there are times when I just love a good day with no plans that end with a campfire.
Thanks for checking out one of our first Campground Reviews!
We're just getting started in our travels and will be sharing more about what life is like on the road in the coming weeks.
We'll be sharing reviews of more campgrounds along with what life is like day to day. We're also excited to start exploring the use of video a bit more to recap our adventures, so make sure you stay tuned to check them out!
(You can laugh at us, alongside us!)
We'd love to hear from you! What do you look for in campgrounds? Do you have a favorite State Park? Drop us a comment below!
Planning your next epic vacation?
Check out a few more of our favorite destinations in the blog posts below!
Pin Lake Kissimmee State Park Camping Review for Later