We had just one day to spend in the city of St. Louis, and with so many options to choose from – it was really hard to narrow down what to see and do. Because we also travel with our Yorkie and Husky dogs, every stop we make has to be pet friendly.
But, that doesn't mean you can't take in the city sights, local food or shopping. With some advanced planning, we created an itinerary that balanced activities between parks, shopping, sightseeing, and restaurants, that included plenty of downtime for the dogs.
Grab our FREE Printable Itinerary and Downloadable Directions, Below!
See St. Louis in a Day (Mostly Free + Dog Friendly)
We're sharing our itinerary and 10 Stops to See St. Louis with Dogs, PLUS one BONUS stop that you just don't want to miss!
Stop #1: Gateway Arch National Park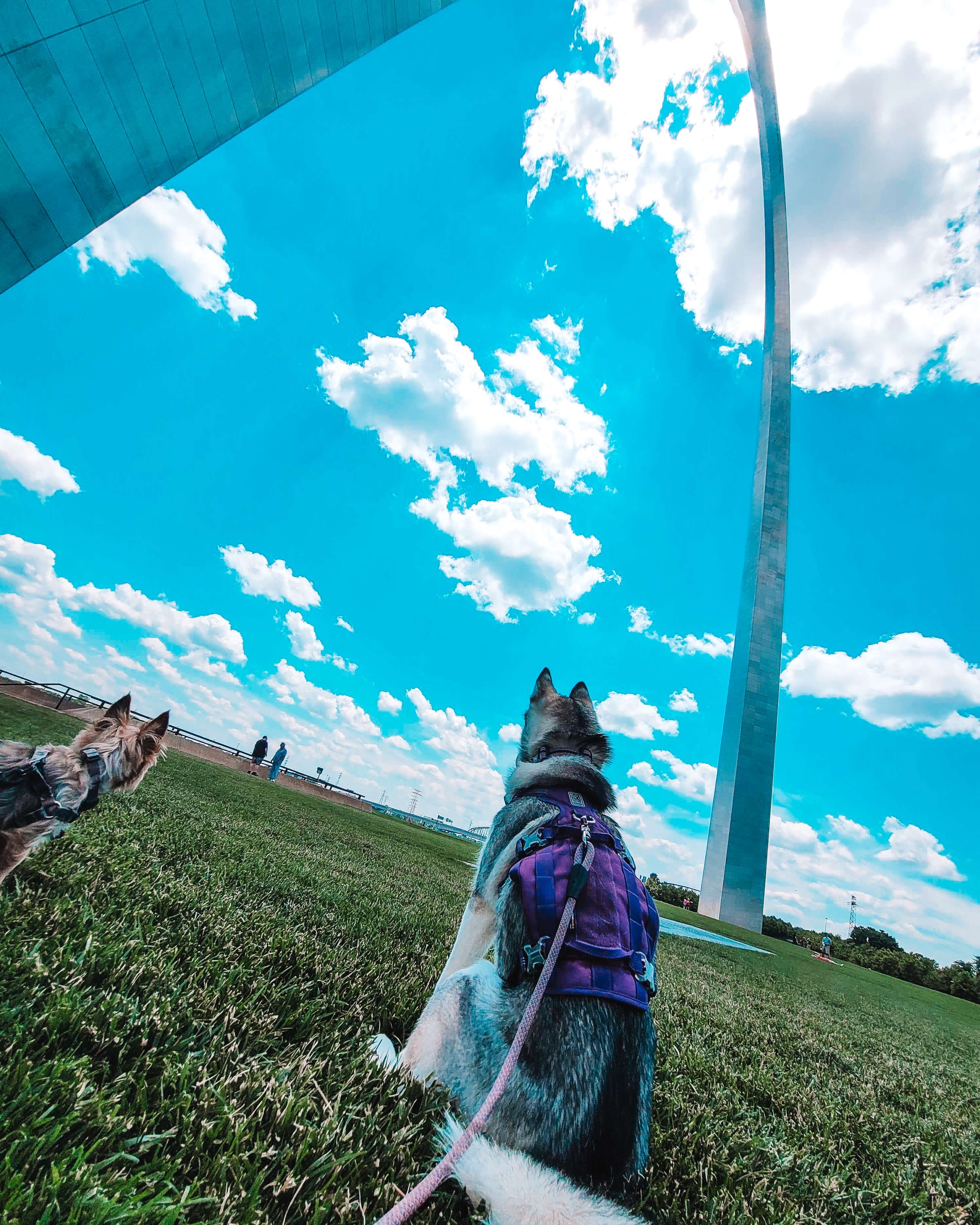 Founded in 1935, the Gateway Arch National Park includes an onsite museum, tram rides to the top of the arch, and impeccable views of the cityscape and Mississippi River.
Sitting on over 91 acres, you'll find abundant open space, fresh manicured grass and plenty of shade among the trees to relax while taking in the views.
Dog Friendly: The walk to the park takes you on a pedestrian highway overpass that may startle pups on a busy day, however once in the park it was a really enjoyable experience for the dogs. We were able to lay a blanket out and let them lounge for a bit, however, they are not allowed in the museum or on trams
Cost: $0 to visit the National Park grounds, visit www.gatewayarch.com  to view updated ticket prices for onsite activities
Tip: Grab a fresh-squeezed lemonade on your way out! Made for the perfect refresh as we sipped them on our way through Stop #2
Stop #2: Citygarden Sculpture Park
Citygarden is an urban sculpture park boasting free interactive art among fountains and gardens, located in downtown St. Louis.
The garden spans two city blocks, where you can follow walking paths leading you past 24 different sculptures, along with six rain gardens and a childrens spray plaza.
This  includes the famous Eros Bendato, the head of Eros, the Greek god of desire, sculpted by Igo Mitoraj.
Dog Friendly: Plenty of grassy areas and shade
Cost: $0, Find out more at st.louis-mo.gov
Tip: Grab your camera for some beautiful photos as you may your way down the tree lined sidewalk spanning the length of the park
Stop #3: Narwhal's Crafted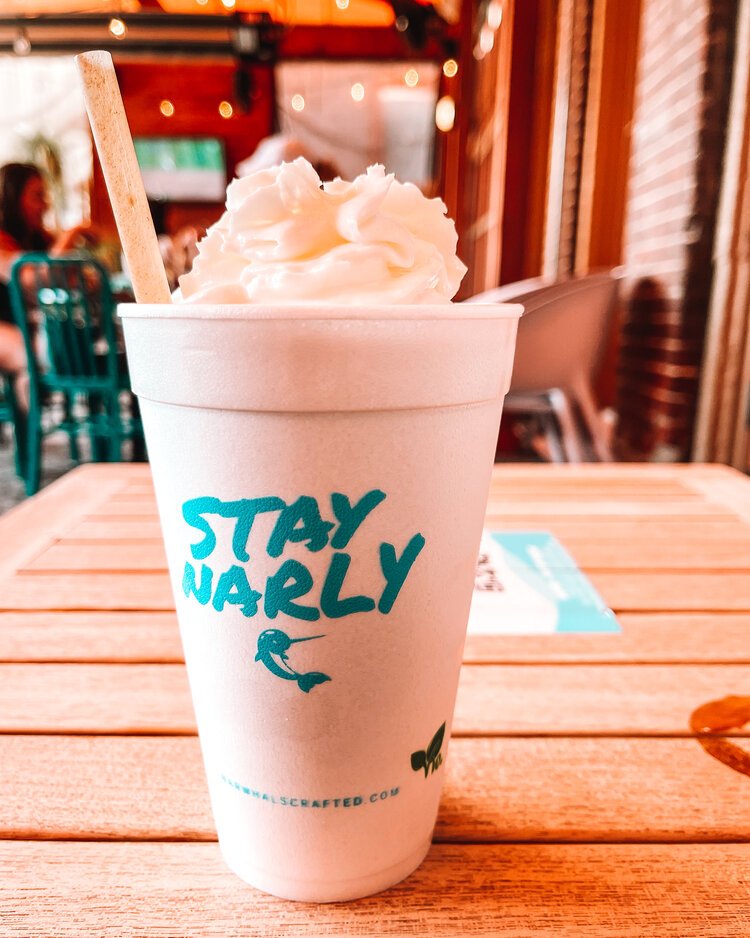 Refresh with a 'thoughtfully crafted frozen cocktail' from this vibrant and unique bar. They're serving up frozen cocktails, cold beers, non-alcoholic smoothies and even frozen pup cups for your four-legged friends.
A quick glimpse of their menu, and you'll find frozen delights like the Orange Dreamsicle, made with spiced rum, whipped cream vodka, triple sec and house orange sherbet.
Reservations are recommended – or opt for first come, first served seating with both indoor and outdoor patio options.
Dog Friendly:  Dogs are welcome on the patio at either location, as long as your dog is on a leash and not saying "Hi" to other guests without their permission.
Cost: Varies, $4-10 per drink. Check out the full menu at narwhalscrafted.com
Tip: While they do not serve food, they do encourage you to bring your own or have it delivered and will even make recommendations on where to order
FREE: Download our Two-Page Printable Planner!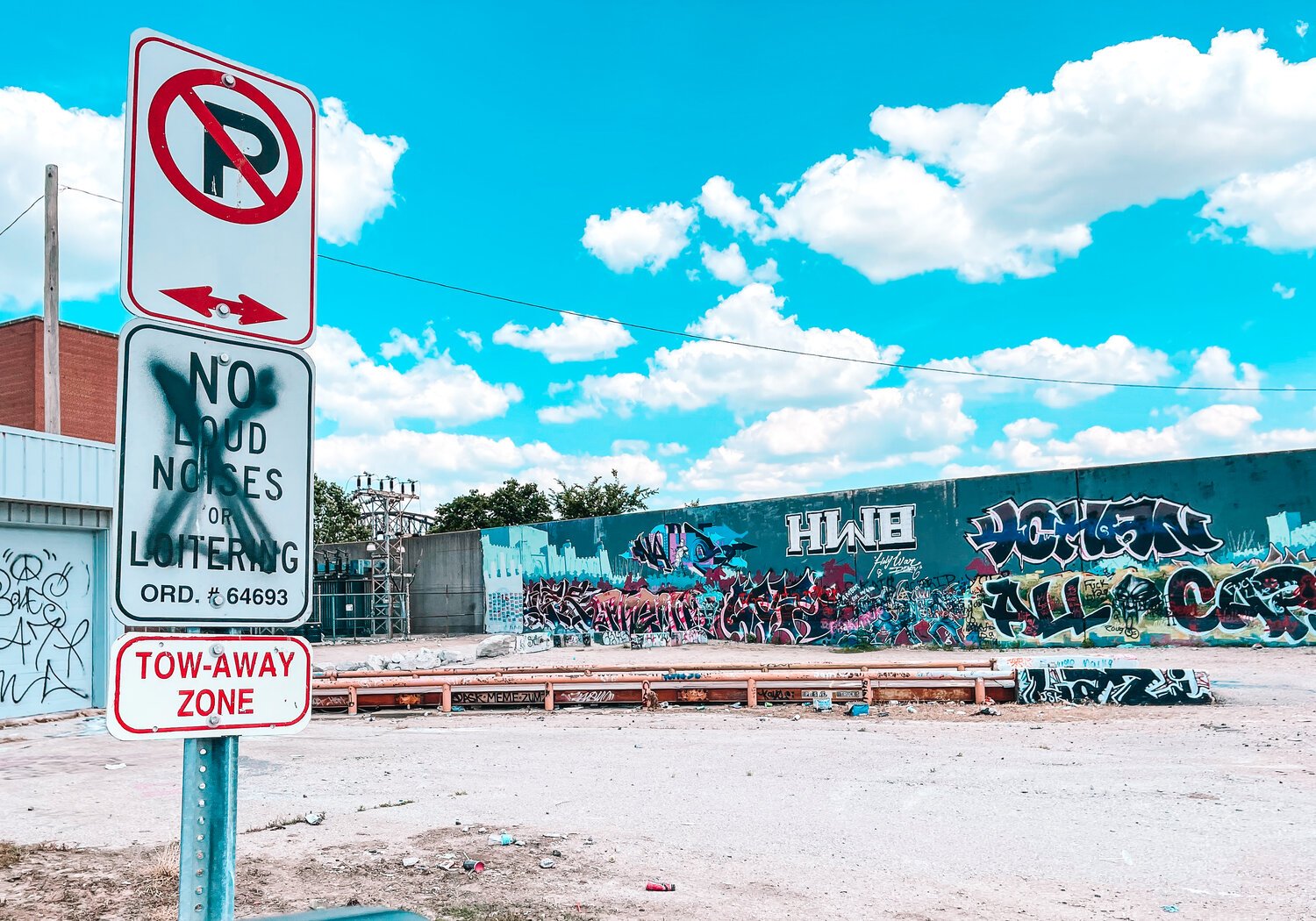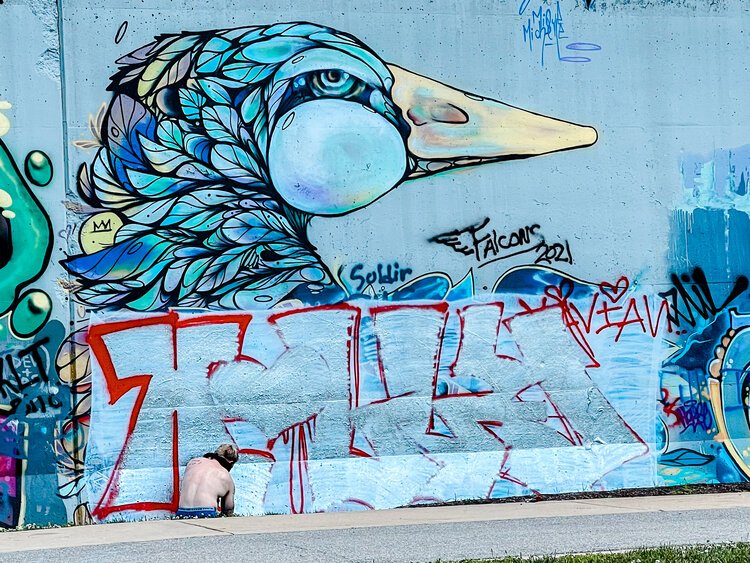 Located along the Riverfront, the Mural Mile is a long floodwall that is covered in graffiti art. According to racstl.org, the project was started in 1997  and became an annual event held every Labor Day weekend. Organized by Paint Louis,  more than 250 graffiti artists from around the country have added to the mural.
Dog Friendly: Dogs are welcome, however they may be tempted by debris
Cost: $0, Find out more at racstl.org
Tip: Street signs warn "no cruising" allowed, so while tempting to drive by slowly while snapping photos – it's not recommended.
Feeling inspired to give back? Bring a bag with you to fill with trash and help keep street art beautiful
Stop #5: Budweiser Brewery Experience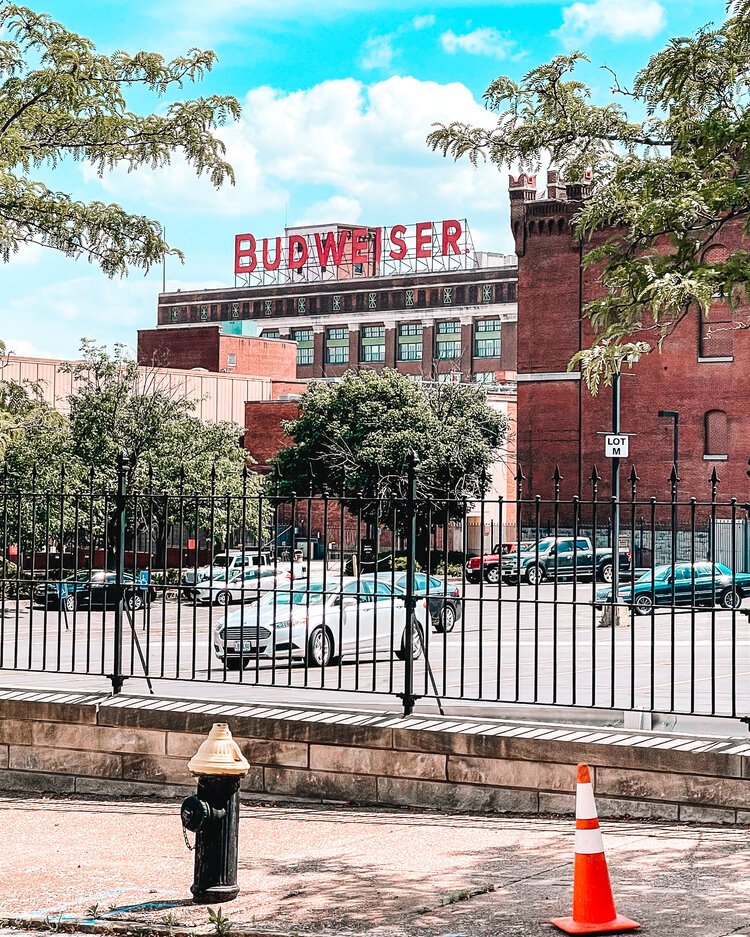 Budweiser was first brewed in St. Louis in 1876 during the industrial era, and the city is home to the Anheuser-Busch headquarters.
Tours of the brewery are available, where you can even visit the famous Budweiser Clydesdales and sample a variety of premium brands. If you are short on time, consider a trip to the Biergarten to experience the classic brews.
Dog Friendly: Because it's considered a food production facility, the grounds are not dog friendly.
Cost: Varies, Find out more at budweisertours.com

Tip: If you're traveling with pups or just prefer to sightsee from a distance, take a drive around the campus with your windows down to take in the smell of hops, and check out the virtual tours from the comfort of home.
Stop #6: Cherokee Antique Row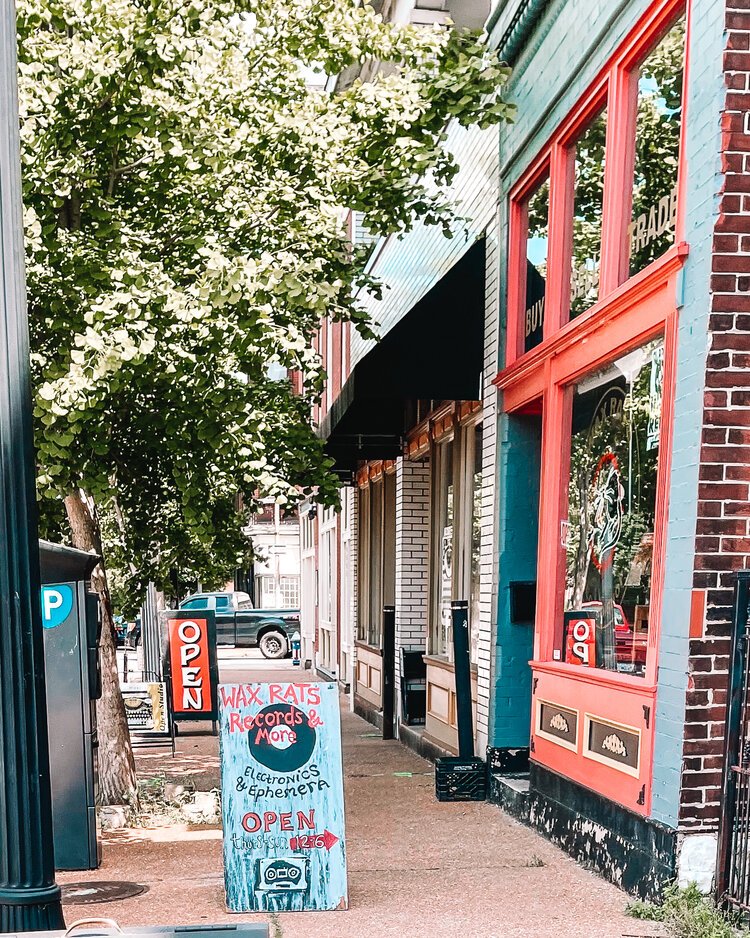 Shop independently owned and operated antique and specialty shops spanning six blocks, called the Historic Cherokee Antique Row, just south of downtown St. Louis.
Take in the mini-histories that are displayed in shop windows, or on fences and buildings, telling the history of the Victorian architecture, and stories of the children who grew up on Cherokee and the families who ran the businesses in the 19th century.
Dog Friendly: Varies, see individual shop policies
Cost: Varies, Find out more at explorestlouis.com
Tip: Best taken in on foot, grab one of the ample parking spaces along the road and set out for a leisurely walk
Stop #7: Laumeier Sculpture Park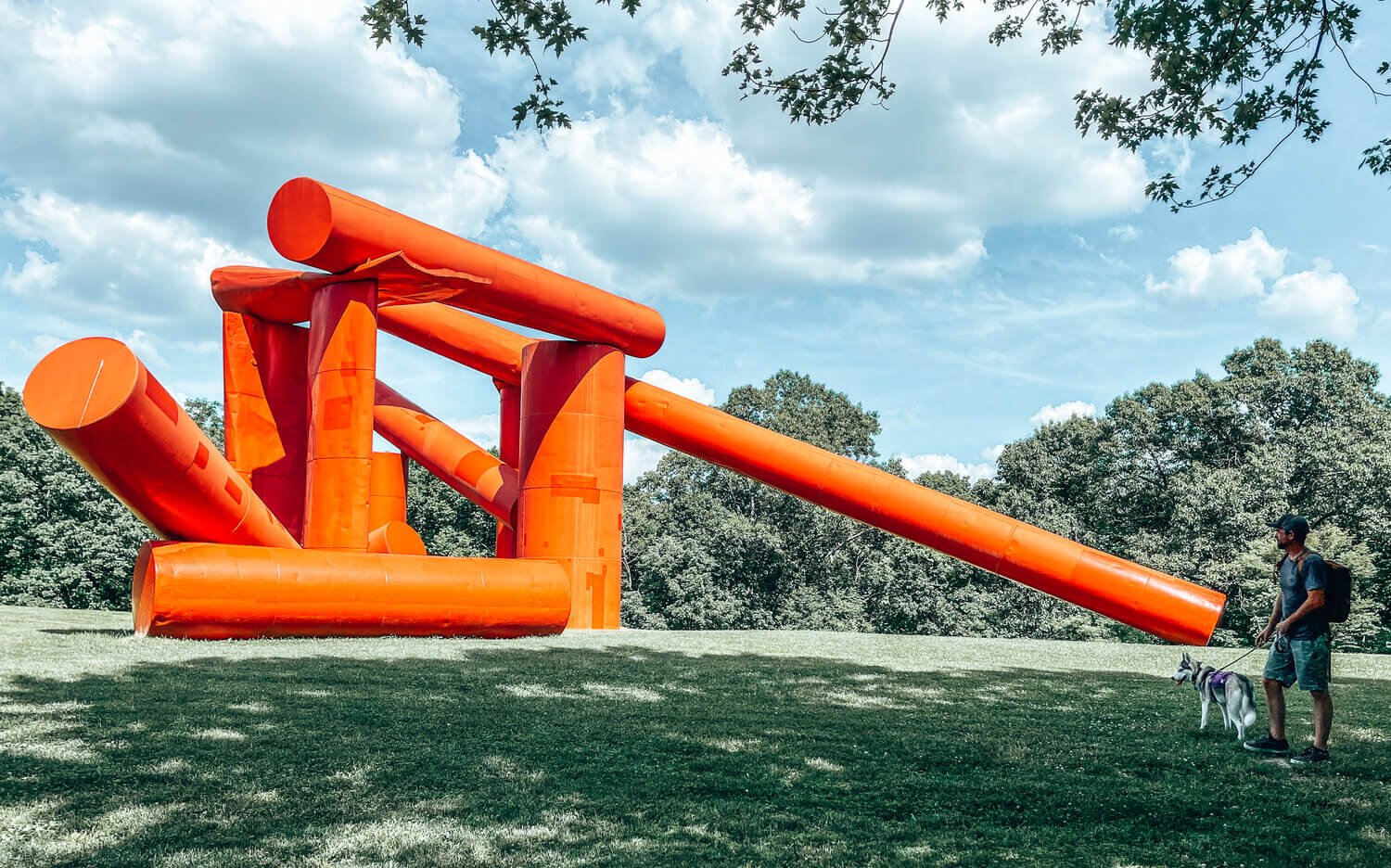 One of the largest dedicated sculpture parks in the country, Laumeier was founded in 1976 and 72 acres of the park were bequeathed to St. Louis County in 1978.
Today, more than 70 large-scale outdoor sculptures call the 105-acre park home. Over 300,000 visitors a year visit Laumeier to take in the incredible displays, exhibitions, public events, and educational programs.
Dog Friendly: Yes, leashed
Cost: $0, Find out more about classes and special events at laumeiersculpturepark.org
Tip: Plan ahead, bring extra water and a snack. The grounds are just massive, and you'll have plenty of opportunities to sit and relax in the grassy areas
Stop #8: Rockwell Beer Company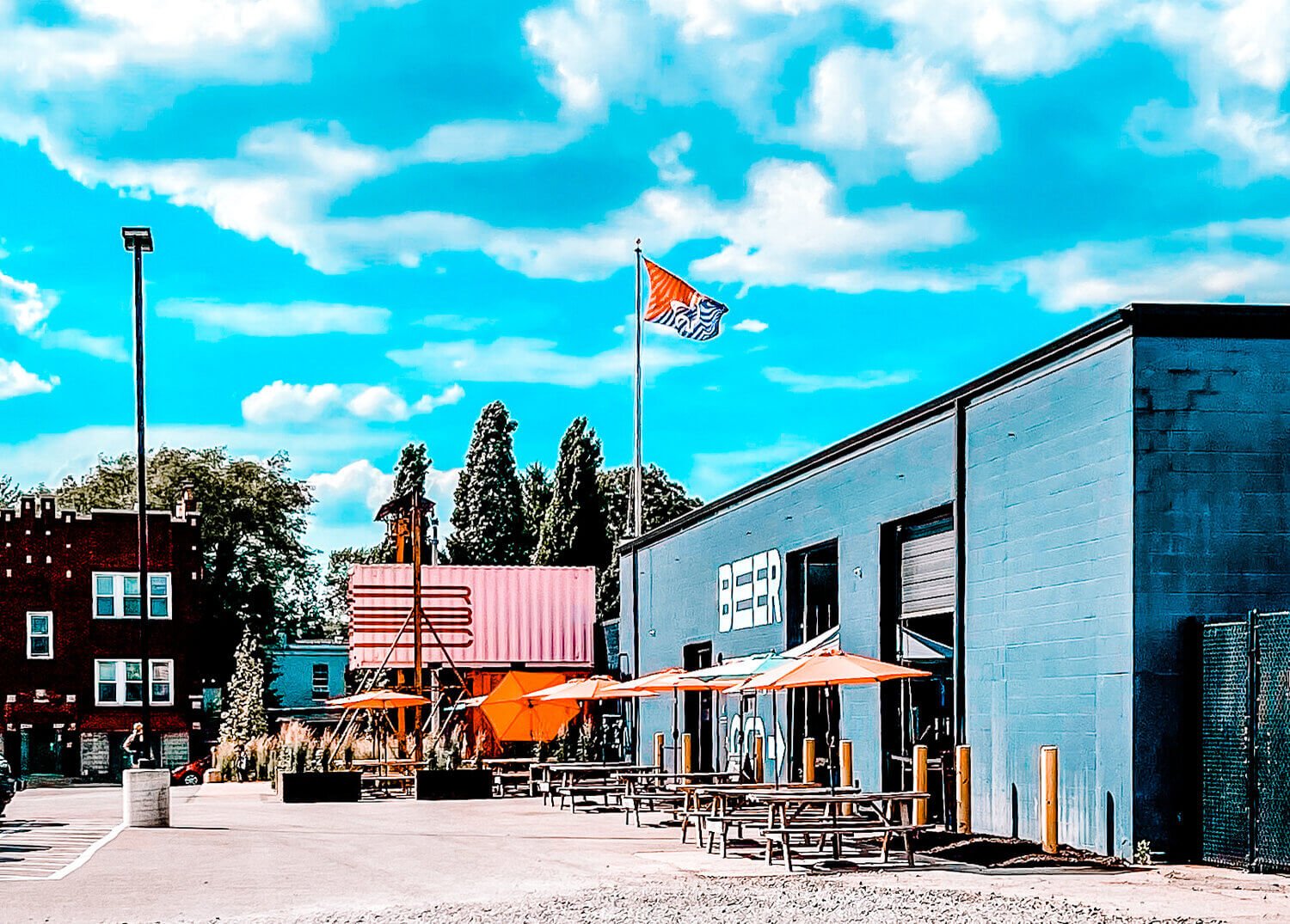 Driving down Vandeventer Ave., you'll likely spot the colorful, stacked shipping containers and packed parking lot pretty quickly. Rockwell Beer Company simply states "We're here for good beer – We respect the classics and thrive on variety".
Order one of their custom brews like Velour Tracksuit or Moonbase, or one of their fresh cocktails like an Aperol Spritz. Inside, you will also find Brasswell, a small restaurant serving up burgers, sandwiches and sides – including a veggie burger.
Dog Friendly: Yes, on the patio
Cost: Varies, Find out more at rockwellbeer.com
Tip: Seating is self-serve, so grab a table and then head to the counter to place your order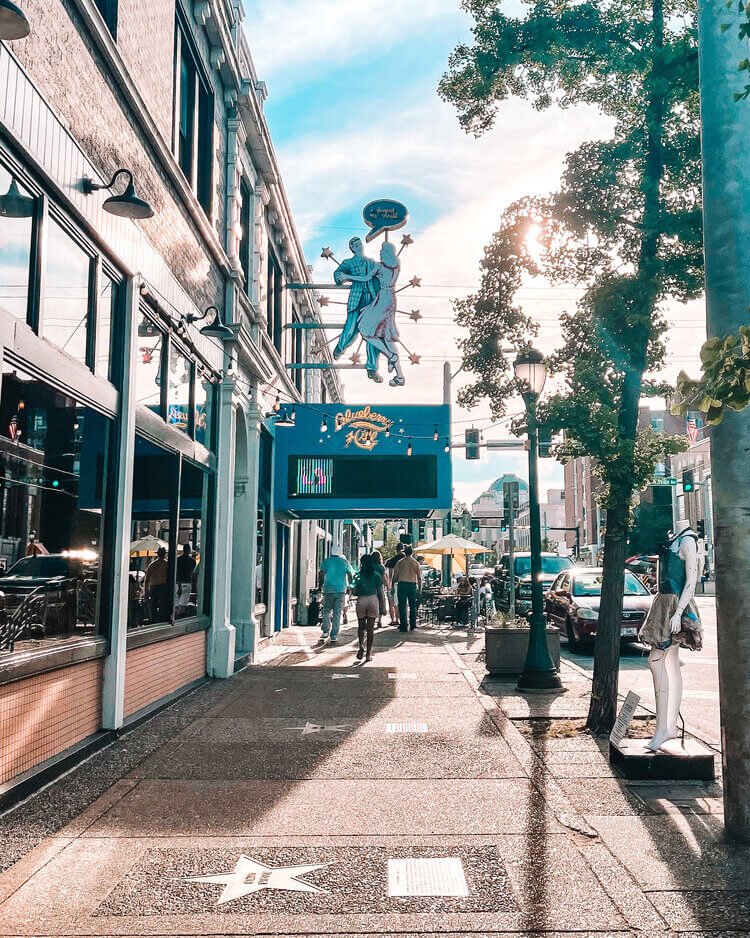 Named over a century ago for the streetcars that looped around before connecting to other areas, the Delmar Loop spans eight blocks and houses a lively ambiance filled with shops, restaurants, art galleries, and live music.
Walking down the strip, your senses will be livened with sounds, sights, smells, and more!
Notable sights to see along the Loop include a statue of Chuck Berry, the St. Louis Walk of Fame, the landmark restaurant Blueberry Hill and the Moonrise Hotel with rooftop lounge.
Dog Friendly: Varies, see individual shop policies
Cost: Varies, Find out more at visittheloop.com
Tip: Visit the Delmar Loop at dusk or later to soak up the energy of the neon signs and marquee lights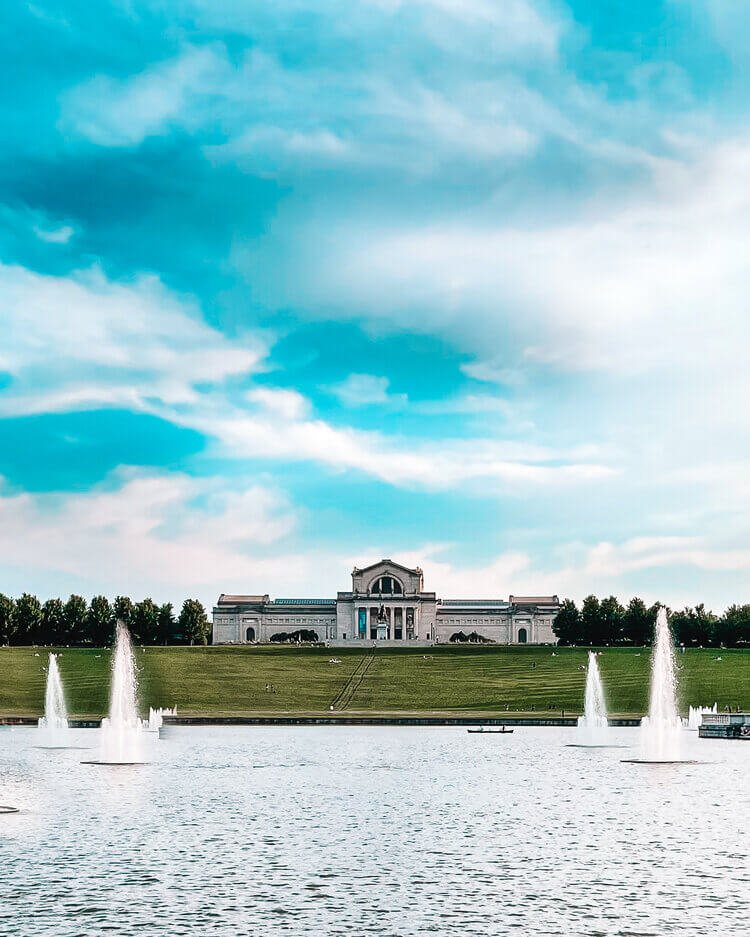 Considered one of America's greatest urban public parks, Forest Park is a 1,300-acre park that truly offers something for everyone.
So much so, that you could likely spend one full day just at Forest Park, visiting the many attractions including the Missouri History Museum, St. Louis Art Museum, or St. Louis Zoo – just to name a few. In addition, you can take a bike tour, rent paddle boats and hike, run or walk the many trails.
One of the park's most popular and impressive attractions, since it was built in 1909, is the World's Fair Pavilion.
Dog Friendly: The park areas are dog friendly, leash required
Cost: Park entry is free, Find out more at forestparkforever.org
Tip: Because we were traveling with our dogs, we planned this stop just to give them time to stretch their legs and run off some energy before we headed home
BONUS Stop! The World's Largest Catsup Bottle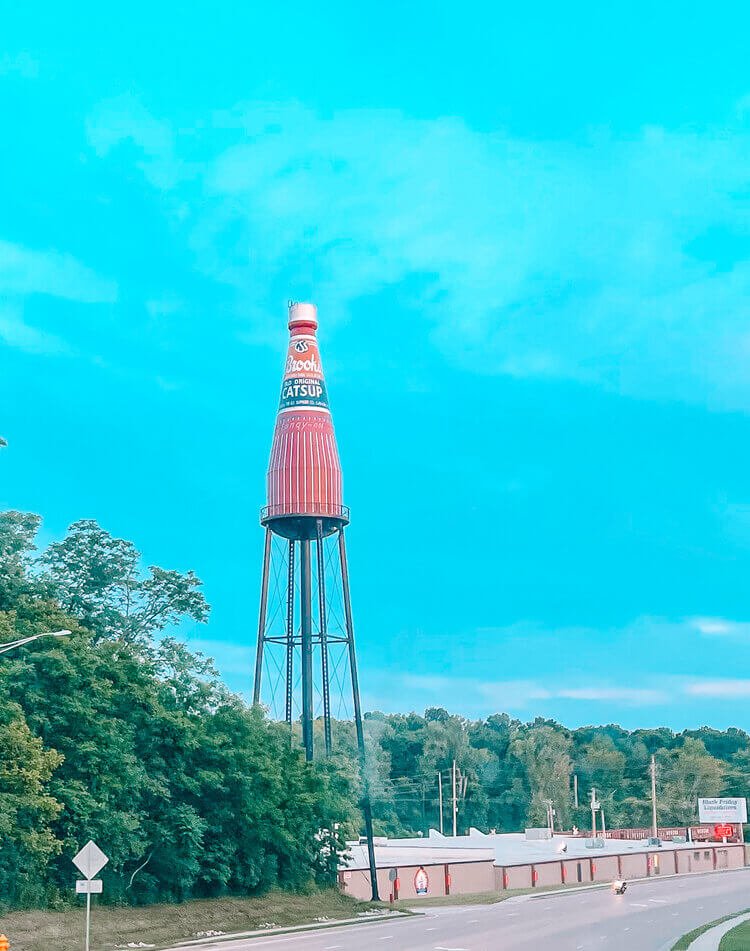 Looking for some kitschy fun roadside stops?
20 Minutes outside of St. Louis, you'll find the World's Largest Catsup Bottle – standing at 170 feet, with room to hold 100,000 gallons of catsup.
(Does anyone else wonder if at least one gallon of that is the water that comes out when you forget to shake first?)
Find out more at catsupbottle.com
(Yes … it really has a website!)
We'd love to hear from you! What would you do if you had just one day in St. Louis? Do we have it on our list, or do you have one to add? Let us know in the comments below!
Pin One Day in St. Louis to Save for Later