How Latch.it RV Lock Can Save Your RV
Did you know that I've got the keys to your RV? 
One of the first upgrades that we made to our RV when we brought it home was to change out the locks. We made a mistake, and we didn't purchase Latch.it RV Lock, but more on that later. First – we were completely surprised to learn this. Did you know?
It may be widely known in the RV community, but probably not to most new owners, that many RVs share the same key. From the factory to the sales center to your campground neighbor, this means that the key to your RV will most likely open the door to one of your neighbors, and … even scarier their key could open the door to yours.
The good news is that changing your RV door lock is a very easy upgrade to make, and there are many products on the market to choose from, including Latch.it RV Lock. This lock is one of the most popular options and is a keyless entry system. That is the type of lock that we chose to install, although we started with a different well-known brand, first. What a mistake.
What is a keyless entry system?
A replacement door lock that allows you to lock and unlock your door wirelessly using a key fob, manually by entering a code onto the keypad, or also by using a mechanical key.
Order yours today (or I can always swing by and drop it off in your camper tomorrow)
Don't make the same mistake that we did
Without doing our research, we originally installed a different brand of RV lock keyless entry to start. However, shortly after installing it, it failed. What we found to be the main culprit was that the back of the lock was made from plastic and it ultimately broke – and the lock would no longer latch.
This left us without any way to lock our RV door.
Completely vulnerable.
Not only was it an inconvenience, but when we reached out to have the entry door lock replaced, we were not presented with any solutions or options that would give us peace of mind that this wouldn't happen again.
So we did our research. (Better late than never?)
And we decided that Latch.it RV lock was the better choice. And the right choice.
Are All RV Locks the Same?
Why choose Latch.it RV lock?
Not all RV door locks are created equal.
One of the main reasons that we chose the Latch.it RV lock is because they are an American family-owned small business, and they offer a lifetime warranty on their products. After our initial experience, we wanted the reassurance that someone would have our back if any issues arose and we felt confident in them.
PLUS! 
Out of the key features that were above and beyond what the competition could offer, we knew that we wanted our new lock to be durable and Latch.it RV lock was the only one to offer a 100% full metal RV lock. (As of today, the "other" company now also offers a metal lock. However – after our initial experience and feeling of vulnerability – we stand confident in our choice to go with Latch.it RV lock).
100% full metal RV lock and made with IP67 waterproof technology that protects the mechanics from harsh elements

TWO key-fobs vs the standard one that most kits include (and the remote key-fob will work from 80 feet away!)

Back-lit keypad: makes it easy to use at night or in the dark

Satisfaction guaranteed LIFETIME warranty … do we need to say more?

Ok, we will say one more … it also only takes 10 minutes to install
… 10 minutes to peace of mind 
The Latch.it RV lock is actually so easy to install – we did it without taking any pictures or videos of our own. If you are looking for more directions, you can check out the installation videos and how-to's on the Latch.it RV lock website.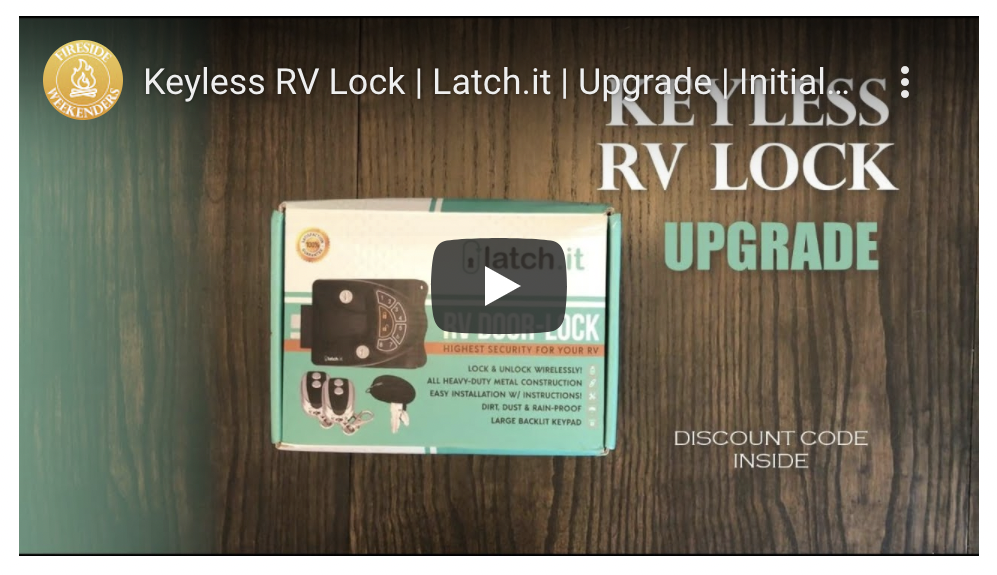 What's Included with the Latch.it RV Lock?
Each kit arrives ready to install and includes:
1 Latch.it RV lock

2 Key-fobs

4x AA Batteries

2 Mechanical keys

1 Protective gasket

1 Screwdriver

Mounting hardware

Owners manual / Install guide

All are backed by their lifetime warranty and 24/7 online support
How do I know if it will fit?
Latch.it offers several types of door locks including mechanical and keyless. You will want to review the options along with their RV Lock Fit Guide prior to making a purchase.
According to their website, they offer RV lock options that fit: campers, bumper-pull campers, travel trailers, fifth-wheel RVs, cargo trailers, and horse trailers. (They do NOT fit certain Class A or Class C RVs – however, it appears that they do have new options coming soon!) Be sure to check the size, placement, and right-hand open specifications.
In addition to RV locks, Latch.it also offers:
Compartment Locks
RV Accessories
RV Road Safety
More RV Locks 
We'd love to hear from you! Have you upgraded your RV lock? Drop us a comment or question below.
Are you looking for more tips to get started with RV Life?
We've been on the road, living in our RV full-time for 3 years and we're sharing what we've learned to help YOU navigate the RV lifestyle, too. 
PIN Latch.it RV Lock Upgrade for Later