What Do I Need to Buy for My New RV?
Let me get to the point. We've been there. Our travel trailer was on order and we were patiently counting down the days until we got to pick it up and start our RVing adventures.
We immersed ourselves in YouTube videos and blogs – reading everything that we could find about what we would need to buy. What ARE the must-haves for your camper? Do you need a gas fire pit? A collection of cast iron? Camper accessories for the inside? The lists, tips, and opinions were plenty, and we learned a lot. And we bought a lot.
What we had a hard time finding was a list of the absolutely essential camper trailer must-haves that we needed to take our new RV out on its first camping trip, and so we bought it all.
And then we returned a lot. And now, after nearly two years of full-time RV living and learning about what camper trailer must-haves we needed – we're sharing our list with you.
BONUS: Grab our Printable RV Essentials Checklist below!
10 RV Essentials: The camper Trailer must-haves you need and why
#1 Sewer hose - tops the list of must-haves for your camper
This is the hose that you will use to connect the holding tanks on your RV camper to the sewer hookup either at your campsite or at the dump station. This is a pretty basic item and you will likely find some options at varying lengths and price points. One thing to consider is that in some parks you may need a longer connection depending on the campsite layout.
#2 Chocks - tops the camper trailer must-haves list for safety
These wedge-shaped blocks are placed on each side of the wheels on your RV camper to prevent it from moving.
These are absolutely essential items to ensure you are using your RV in the safest manner and will be the first things you put out and the last things you pick up on every trip.
You can find these in varying quality and price points.
Basic chocks will wedge between the wheel and ground, while the Andersen set gives you a bit more control over leveling while chocking, as you can drive your RV wheels right up onto the leveling chocks – allowing you to adjust by up to 4".
#3 Leveling Blocks - the camper trailer must-haves to level in your site
Leveling blocks are used by placing them under your tongue jack and stabilizer jacks to help make your RV camper sit level, while also protecting the surface.
Not only will these make it easier for you to level your RV camper safely, but some campgrounds require you to use them to avoid damaging concrete pads.
There are several options to consider – varying in price and use. Andersen makes larger blocks that are taller and require fewer, while Camco makes stackable thin blocks that make it easier to customize your result.
#4 Drinking Water hose - an RV essential
There are a couple of options to consider when purchasing your drinking water hose – but the Zero G comes highly recommended. It's lightweight and kink-free – making it an ideal option for camping use.
You will connect this from the water source to the city water connection on your RV – providing water to your sinks, shower, and toilet and filling your fresh water tank if you plan on dry camping.
If you choose a different hose, you will want to make sure it is drinking water safe. Similar to your sewer hose, you will want to consider the length of your drinking water hose to ensure it's long enough for varying campsite sizes and layouts.
#5 Water Pressure Regulator - the often forgotten item from the must-haves for your camper
This is going to give you more control over the water pressure going into your RV and it's important because it can vary from park to park – possibly causing damage if the pressure is too high. You will connect this somewhere between the city water connection and the water source, with personal preferences being varied.
#6 Hose Saver (Elbow) - another RV essential item
This may not seem like an absolutely essential item – but it helps to protect the water connection on your camper and reduces wear and tear on your hose. This will attach between your city water connection on your RV and your drinking water hose allowing the hose to hang at a more relaxed angle.
RV Essentials Printable Checklist
Grab our FREE printable checklist that includes our
10 RV Essential Items + The Next 20: The 20 additional items
you'll want to consider before heading out on your next camping trip!
#7 Water filtration - don't overlook this on your list of must-haves for your camper
Are you seeing a theme with water? You have several options when it comes to how you choose to filter your water, but it is highly recommended that at a minimum you utilize an in-line water filter. This will help reduce possible sediment from making its way into your fresh water tanks, pipes –  and even your cups.
We started with the basic Camco in-line filter and then used a filtered pitcher for drinking water.
We recently upgraded to the ClearSource filtration system for improved quality with their Three-Stage Filtering.
The 5-micron filter removes or reduces rust and sediment, with the 0.5-micron coconut shell carbon block filter improving taste and removing or reducing chlorine, volatile organic compounds, and other contaminants. The third stage VirusGuard filter removes or reduces bacteria like e.coli, cysts like Giardia, and – unique to Clearsource – viruses.
#8 Black Water Tank Flush Hose - yes, you need another hose
Look – you don't want to use the same hose to transport your clean drinking water into the rig, to turn around and connect it to the Black Water Tank Flush.
I promise. Buy the second hose.
This one will connect from the water source to the Black Water Tank Flush that sprays clean the inside of your black tank. You can really use any general garden hose for this purpose.
Once you've gotten all the RV camper trailer must-haves, we recommend that your next upgrade be a Tire Pressure Monitoring System (TPMS).
This is used to help monitor the tires on your RV, from pressure to temperature, and can help alert you to a blowout before it happens.
TireMinder 88c RV Tire Pressure Monitoring System Install and Review
#9 Surge Protector - protect your RV with this important camper trailer must-have
Similar to the differences you will see in water pressure from campground to campground – you may also experience surges in electricity. This can be concerning when you are powering your entire RV through a power cord and you have no control over the flow of energy.
A surge protector will protect your RV against high voltage, and with some more advanced models can be controlled by user settings including low voltage regulation.
#10 Dogbone RV Electrical Adapter - don't leave home without it
Standard RV camper electrical systems are run on either 30 amps or 50 amps – meaning the plug on the power cord that runs your camper will be one of two sizes, running one or the other amperage.
You will need to plug a 30 amp plug into a 30 amp outlet, and a 50 amp to a 50 amp.
Typically when you travel to a campground the outlet on the pedestal will be a 30 amp outlet, but some will have both 30 amp and 50 amp. This is important to know to understand why you might need this – and more importantly to understand what option you need.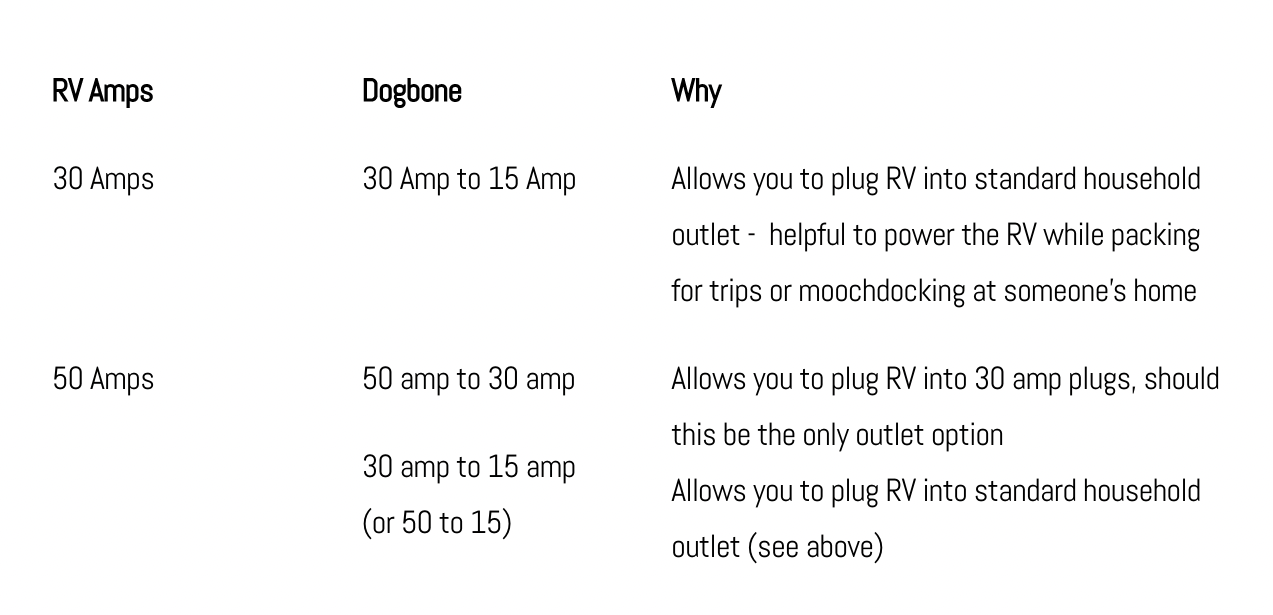 Note: when reducing amps you may not be able to run as much power as normal
For example, if you have 2 AC units – you would likely only be able to run one
And that's it! Now – these are the items we recommend that you absolutely need to get started. Depending on the type of RV you have, this list should cover your travel trailer and fifth wheel – but some items may not be applicable to motorhomes, etc. and you should check for items specific to these.
And don't forget! Now that you have the 10 MUST-HAVE ESSENTIALS – download our printable checklist for the NEXT 20 ITEMS you will want to consider before heading out on your camping trip!
We hope that this was helpful to get you started with your new camper – and wishing you lots of adventures ahead!
We'd love to hear from you!
Let us know below if there is anything else that should make the list of RV Essentials!
PIN rv camper trailer must-haves for later