Welcome to Morganton Point, Camping in GA Mountains
We've been visiting Morganton Point Campground for several years, and it is still one of our favorites. After staying here in the Spring, Summer, and Fall – multiple times a year, we're sharing the most extensive collection of campsite photos, and the inside scoop on our FAVORITE and BEST campsites at Morganton Point Campground. If you are ready to go camping in GA mountains, you are in the right place!
Morganton Point Campground is a North Georgia campground located on Lake Blue Ridge, in the Chattahoochee National Forest.
If you are longing for camping in GA mountains that includes relaxing days by the water, mountain views without a windy, treacherous drive, and a true outdoorsy experience with private campsites for a little R&R – this is the place for you.
Note – it seems to be the place for a lot of folks these days and you'll likely need to book ahead. Like … "Book in January to visit in July" – ahead. Or, "Why are you telling people about our favorite place" … ahead.
Morganton Point Campsites and Amenities
Morganton Point Campsites:
Total of 43 sites, nestled in the lush woods surrounding Lake Blue Ridge

25 sites are equipped with 50/30 amp electric and water

2 double sites and 7 walk-in sites

Most sites are very spacious and pretty private
Morganton Point Bathrooms:
2 bathhouses total

Probably the cleanest we've seen at a campground
Amenities at Morganton Point:
Lake Blue Ridge is a very active lake, offering all of the water activities you can dream of! Kayak, Canoe, Standup Paddle Board, Jet Ski, or float your Pontoon Boat

The recreation area offers a picnic area with picnic tables by the beach area and you will also find a paved boat launch where you can make your way out onto the 3,290 acres of Lake Blue Ridge

There is a small shop at the Morganton Point Recreation Area, to grab an ice cream and Kayak rental
Morganton Point Campground Map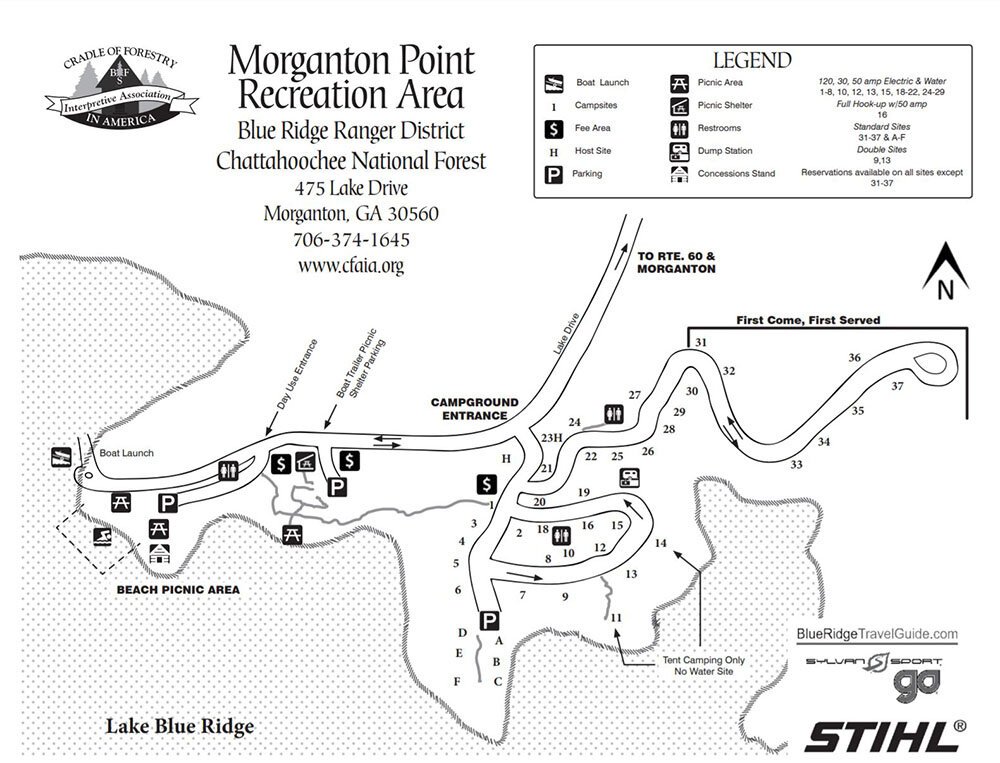 What are the BEST sites to book at Morganton Point?
What makes Morganton Point Campground such a special place are the campsites.
The sites are spacious and surrounded by lush greenery, with many of them waterfront – giving you water access and beautiful views of Lake Blue Ridge.
Morganton Point Campground's best sites are #'s:
6, 7, 9, 11 (tent only), and 13.
Details for some of the sites that we've stayed in:
Sites #4 and #5 are spacious and level, but they do not have direct water access
Site #6 is beautiful, with plenty of space and amazing water access. You can bring all the water toys and never leave this site
Site #7 is across from Site #6, making it a great option for bigger parties to split up. It has water access as well, but the placement of hook-ups means you will likely park your camper with the door facing away from the water, and towards the road instead. It's a great tent site with a step-down and level space

Site #9 is a double site with beautiful views and lake access. Similar to Site #6, this is a favorite among many campers and can be difficult to book

Site #11 is a tent-only, non-electric, hike-in site – with a tree-covered walkway back to amazing lake views and water access

Site #13 is also a double site, and super spacious because you park your camper up top on the paved pathway, leaving the bottom level open for tents and activities. There is water access and a trail that connects to Site #14. Note, there are stairs or a bit of a grade to walk down to navigate from the camper parking area to the campsite/water

Site #14 is tent only, non-electric but you can run an extension cord to Site #13 if your larger party is occupying both sites. This site is so spacious and has a walkway and access to the water

Site #15 is a great option if you want to be close to the restrooms, but is not on the lakeside
Sunset over Lake Blue Ridge, view from Morganton Point campsite #6
Things to do in Nearby Blue Ridge, GA
We first fell in love with Blue Ridge for its beautiful views and quaint downtown area.
Over the past couple of years, we have seen the population growing, seemingly with both residents and tourists alike and the downtown area is bustling as soon as shop doors open, with the parking lots filling quickly [Update: most parking lots downtown are now paid].
We recommend checking shop hours before heading out, as many shops close early and hours change seasonally. The busiest times are definitely over the weekends and during peak travel seasons.
If you're planning on camping in GA mountains, you'll have plenty of options to check out.
A few of our favorite things to do when visiting the Blue Ridge, GA are:
Taking a walk down the main street, you will pass outdoor goods stores, antique shops, gem stores, boutique clothing, the cat at the knife shop and so much more.
Make sure you stop into Huck's General Store, where you can find souvenir t-shirts (they have more sizes in the back!) and fill up on all your favorite bulk candies and old-fashioned toys.
Misty Mountain Hops Vinyl Pub
One of our favorite places to grab dinner is Misty Mountain Hops Vinyl Pub. This locally owned spot is founded on the belief that "through music and food we can provide an establishment for people of all backgrounds, generations, and beliefs to come together and enjoy an enthusiastic experience of the community"
The menu boasts numerous unique options and the atmosphere is chill with live music on a regular basis.
And then of course you will want to pop over to Mercier Orchards – where you'll find U-Pick activities, a winery, all the yummy baked goods you could ask for, and so much more.
Day-trip worthy things to do outside of Blue Ridge:
Just a 45-minute drive away, you can find yourself zip-lining through the forest, hiking trails, and walking to the beautiful falls. You'll also find the Appalachian Trail approach for a fun photo too. There are a few more options for camping in GA mountains in this area too. We have not stayed at any ourselves, but hear great things.
Within an hour's drive, you can view 4 states from the Observation Deck at the peak, hovering at an elevation of over 4,700 feet.
Morganton Point Campground Contact Information
Morganton Point Recreation Area
475 Lake Drive
Morganton, GA 30560
(706) 374-1645
Morganton Point Campsite Photos: Camping in GA Mountains
Pin Morganton Point Campground for Later
We'd love to hear from you! Have you been to North Georgia? Let us know if you have any questions by dropping a comment below!