Warning: This post requires the following prerequisites:
1. Flannel shirt: worn or tied around waist or shoulders
2. Boots: ankle, calf, or knee-high
3. Warm Bevvie: PSL, Hot Toddy, or Chai Latte
OK, assuming you've gathered these essentials and you're looking for fun things to do in North Georgia …
We think you'll love Mercier Orchards in Blue Ridge, GA
Add this to your list if you are looking for fun things to do in North Georgia!
From our very first visit to Mercier Orchards, we fell in love with the beautiful sprawling grounds filled with apple trees and scenic views, and that was before we stepped foot inside to find a market full of unique and delicious goods and gifts.
Plus! As of June 2022, Mercier Orchards is now a Harvest Hosts location with four pet-friendly spaces for RVs of any size. (Verify current participation through Harvest Hosts)
Walking into Mercier Orchards feels like you're walking into that familiar place, and it feels a little like home. Sometimes you can just tell when a business is family-owned, and we weren't surprised to learn that according to their website:
"Mercier Orchards is a family-owned and operated apple orchard now in its 4th generation. Started back in 1943 by Bill & Adele Mercier, Mercier Orchards is now celebrating over 75 years of fruitful harvest!"
"… it feels a little like home."
What to do at Mercier Orchards
Mercier Orchards offers seasonal friendly experiences both indoors, and outdoors, including:
Bakery & Market Cafe

Market Store and Winery

U-PICK events (Aside from apples, they also currently grow strawberries, blueberries, blackberries, and peaches)

Catch and release pond for fishing
Note: We'd recommend reaching out or visiting their website for the most up-to-date information on U-PICK events and product availability.
Shopping at Mercier Orchards
Just a few of the views around Mercier Orchards, where you will find fresh produce, a wall of honey, teas, baking mixes, soups, a bakery, a winery – and so much more!
Our Visit to Mercier Orchards
While we have made many trips to Mercier Orchards when looking for fun things to do in North Georgia, our most recent trip happened during the Fall season, and let me tell you … it just felt right to be there!
It was definitely a busy day, and to be honest – we passed by there at least 3 to 4 more times throughout the week and noted that the parking lot certainly never looked LESS full.
The folks that are working there are really keeping busy because it never seems to slow down!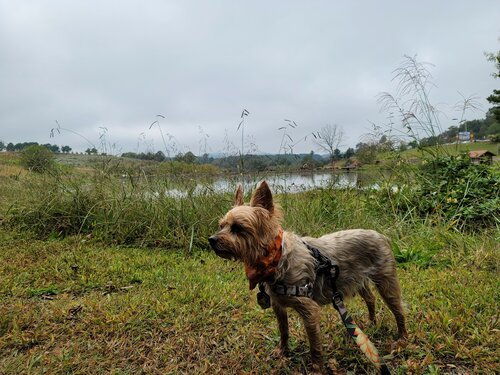 While the grounds outdoors are pet friendly, only service animals are allowed inside.
For us, that means that we take turns shopping while one of us takes care of the dogs.
I was personally on a mission to find some of my favorite goodies to stock up on, including Peanut Brittle and Apple Cider Donuts. We spent some time browsing all of the displays and made sure we found the perfect treats to give us all the fall feels.
And, don't forget your loved ones, too! Mercier Orchards offers custom and ready-made gift baskets, filled to the brim with all sorts of goodies!
So just what can you find at Mercier Orchards?
Jams, Jellies, Butters

Baking Mixes like Pancakes,

Biscuits, Muffins

Fresh Fruits & Veggies

Baked Goods
(Like these Apple Cider Donuts!)

Home Decor & Gifts

Apple.Everything.

Pickled Veggies, Dips, and Sauces

Seasonal Decorations

and more!
Mercier Orchards Contact Information
Phone: 706-632-3411
Fax: 706-632-2685
Address: 8660 Blue Ridge Dr, Blue Ridge, GA 30513
Need a Place to Stay Nearby?
Did you find TOO many things to do in Blue Ridge, GA? Extend your stay!
Checkout our favorite campground in North Georgia – Morganton Point Campground. 
Located on Lake Blue Ridge, with spacious and private sites, and you'll be just 10 minutes away from Mercier Orchards.
We'd love to hear from you! What is your favorite fall activity? (And why is it visiting an orchard?!) Drop us a comment below!
Pin Mercier Orchards, Fun Things to Do in GA for Later
More Fall Inspiration - Posts from our RV blogger friends
Check out the Fall Blogger Round-up that we took part in! You'll find a collection of recipes and DIYs to kick off the season!